Back to top
News and Announcements
Assistant Principal's Week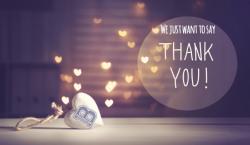 ❤️This week is National Assistant Principal's Week #APWeek2020
We wanted to say thank you to our very own Assistant Principal for everything she does for our students, teachers, staff and school. ❤️

Attendance Update: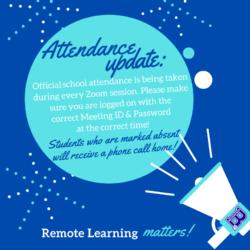 Daily attendance is now officially being taken during every Zoom meeting. Please make sure that students have the correct Meeting ID & password. They need to be on time and stay for the whole session in order for their attendance to count.

Weekly Reminders for April 6-10, 2020
Stay At Home Bingo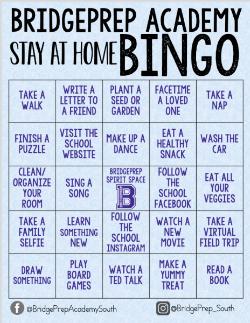 Have a little fun while staying at home....
Participate in our very own BridgePrep Stay at Home Bingo.
Save the image and then post it to your Facebook and/or Instagram marking off all of the things you've done. Be sure to tag us :)
#BridgePrepAcademy #BridgePrepBulldogs #BridgePrepStayAtHomeBingo

Second Round Acceptances for 2020-2021 School Year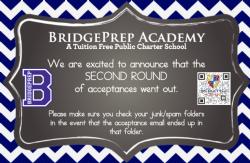 EXCITING NEWS FOR OUR 2020-2021 NEW APPLICANTS!
Our second round of acceptance emails went out.

#BridgePrepAcademy #BridgePrepBulldogs #BridgePrepAcademySouth #ComeGrowWithUs #WelcometotheBridgePrepFamily

Parent Zoom Meeting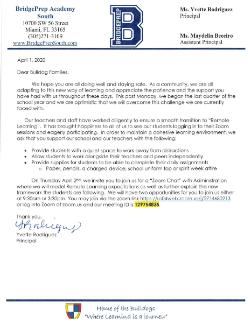 Parents/Guardians:
You are invited to a Zoom Meeting with Mrs. Rodriguez & Mrs. Beceiro on Thursday. There will be two sessions 9:30am & 3:30pm. The Zoom Meeting ID is: 129-754-435.

School Closure Update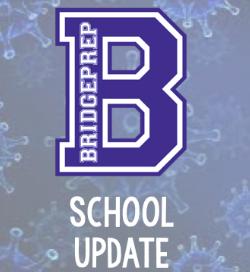 The FLDOE Commissioner of Education, Richard Corcoran recommended that all Florida public and private K-12 school campuses extend closures through May 1, 2020. Based on this recommendation, all Miami Dade schools will remain closed through May 1, 2020 with daily remote/distance learning taking place. We will keep you informed with the latest information and statuses.
#BridgePrepAcademy #BridgePrepAcademySouth #BPASouth #BridgePrepBulldogs

Grab-and-Go Meals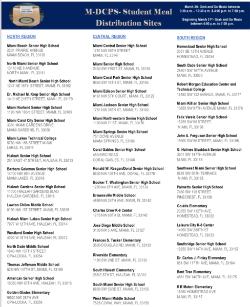 Miami Dade County Public Schools will be providing grab-and-go meals from 4pm-7pm. Our charter school students can report to any public school on the list to pick up meals. Distribution will take place in an area along the external perimeter of the building.

#BridgePrepAcademy #BridgePrepBulldogs #BPASouth

Kicking off our back to remote learning- Virtual Spirit Week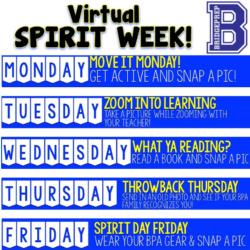 Calling all Bulldogs!! Join us with some virtual spirit fun to kick off our back to remote learning next week! Share your pictures each day to help motivate your friends into our virtual learning fun!
Please remember to check our school website and Class Dojo for updates regarding the Coronavirus.
If your child does not already have an Educational Networks account, please contact your child's teacher ASAP.

#BridgePrepAcademy #BridgePrepBulldogs #RemoteLearning #VirtualSpiritWeek2020

Superhero Teacher of the Week on SFLCW!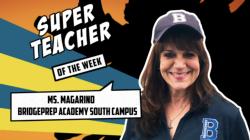 Thank you for sharing this video SFLCW! We are very proud of Mrs. Magarino and her students for embracing digital learning. She has definitely helped our students feel comfortable with it and to allow them to continue their academics as best as can be.
Our school is lucky to have her and your family as part of our Bulldog community.
Check out the full article below!